Welcome to the June edition of the Jewish Future Pledge newsletter. Please scroll to the bottom if you have been forwarded this edition and would like to learn more about Jewish Future Pledge and subscribe. And if you haven't signed the Pledge yet, please show your support for the Jewish future by signing here.
This edition includes:
An incredible Atlanta couple sealing their daily commitment to Jewish life with the Jewish Future Pledge
A nonprofit organization, Alums for Campus Fairness, sharing insight on how to stand up with unity and pride in the face of rising antisemitism
Everything new and newsworthy at the Jewish Future Pledge, including a recording of our recent webinar with renowned leader of Sinai Temple, Rabbi David Wolpe
---
Pledger Spotlight: Sharon and Michael Levison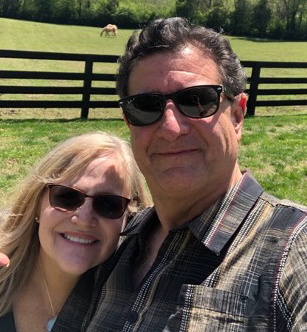 What did you think when you first heard about the Jewish Future Pledge and why did you ultimately sign?
We've been involved in Atlanta's Jewish community for 35 years, starting with the decision to send our first child to Jewish Day School back in the early 90s. Three children, 10 years each at The Epstein School, at least that many years at a Jewish summer camp, and years abroad studying in Israel. Clearly, we took a Jewish pledge when our kids were young, but we didn't put it into writing until we were presented the opportunity to sign the Jewish Future Pledge.
What conversations have come up since you have signed the pledge?
While we have our legacy wishes sealed in legal documents, signing the Jewish Future Pledge prompted us to reaffirm to our children our wish to support Jewish causes. They know how passionate we are about Israel, and have witnessed and participated in our decade-long involvement with Jewish National Fund (JNF). We support our synagogue, our Jewish Federation, FIDF, and the list goes on. We do this because it's our passion and because it's our community. Now, we've signed the pledge to seal our commitment to Jewish causes.
What is one Jewish value you carry with you in your daily life?
One of our main values is supporting a strong, inclusive, and sustainable State of Israel. Through our work with JNF, we can impact not only our visions for Israel, but also demonstrate this commitment to our family, our community, and beyond. When the patriarch of the family, Jarvin Levison, took us all (about 15 Levisons) on a trip to Israel, he included a day long JNF tour on our itinerary. Three generations were able to witness how our work and our dollars really make the desert bloom. It was a privilege that all Jarvin's children and grandchildren got to see the results of our philanthropy – not only with their eyes, but with their hands as well, when we each planted a sapling in a JNF-USA forest.
---
How To: Combat Rising Antisemitism

Now is the time to stand up for the Jewish people. Show your commitment by signing the pledge today — and by working together to combat antisemitism. Here are some thoughts from our friends, Alums for Campus Fairness, on what works. Share with family & friends when you tell them about your pledge.
Antisemitism in the U.S. is skyrocketing faster than ever. While the natural response may be to lash out or go on the defensive, the best way to combat antisemitism is with Jewish unity, pride, and strategic action. As the saying goes, you cannot fight fire with fire, and words without accompanying action are sometimes not enough.
College campuses are increasingly at the forefront of these battles. Jewish and Zionist students are harassed, threatened, and discriminated against because of who they are and what they believe. University administrations often toe the line or drag their feet, leaving the task of combating bigotry to the Jewish students under attack, their student groups, and alumni organizations. Alumni play a key role in this fight—and their work is a powerful model for united community action. By coming together to launch petitions, publish op-eds, pen open letters to administration, and spearhead closed-door meetings with university leaders, alumni can take a strong stand against antisemitism, and send a clear message that there is no place for hate on campus.
Acting as one unified voice enables us to effect change on our campuses and in our communities, and to stand up proudly for our Jewish identity.
Alums for Campus Fairness (ACF) is America's unified alumni voice on issues of antisemitism, demonization of Israel, and bigotry on campus.

---
New and Newsworthy